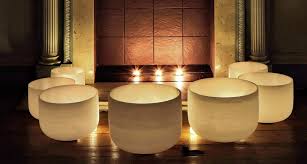 In today's fast-paced world, the search for innovative wellness practices that truly rejuvenate mind, body, and spirit is more vital than ever. At The Salt Room-Coral Springs we've embraced the synergistic power of Salt Therapy and Sound Healing, a bi-monthly ritual designed to foster deep relaxation and promote holistic health.
Salt Therapy: Breathe Deeply and Rejuvenate
Salt therapy, also known as halotherapy, is a practice that dates back centuries, with its roots in the salt mines of Eastern Europe. Workers in these mines were found to have remarkably lower rates of respiratory ailments and skin conditions compared to their counterparts. This anecdotal evidence has led to a modern-day resurgence in salt therapy's popularity.
By mimicking the microclimate of a salt cave, our Salt Rooms offer an escape that's not just physically beneficial but also spiritually soothing. As you breathe in the saline air, it naturally cleanses the lungs, reduces inflammation, and improves respiratory conditions like asthma, allergies, and chronic bronchitis. Moreover, it's a moment to disconnect, a rare luxury in our hyper-connected world.
Sound Healing: The Ancient Echoes of Wellbeing
Sound healing, on the other hand, is an ancient practice that has been utilized by cultures around the world, with Tibetan singing bowls, gongs, and bells being just a few of the instruments traditionally used. The principle is simple yet profound: sound frequencies can affect the subtle energy fields of the body, promoting healing and a state of balance.
Modern research has begun to unpack the science behind these ancient techniques, suggesting that sound therapy can reduce stress, lower blood pressure, and decrease mood swings. In our sound healing sessions, the resonant tones help to facilitate a state of meditation, which can lead to greater clarity, improved sleep, and a general sense of wellbeing.
A Bi-Monthly Journey of Wellness
Recognizing the profound benefits of both therapies, The Salt Room-Coral Springs has created a unique bi-monthly event that marries the purifying effects of salt therapy with the harmonizing impact of sound healing. Our goal is to offer an intimate setting where the body can absorb the health benefits of salt particles while the mind is bathed in the therapeutic vibrations of sound.
The Combined Benefits: A Symphony of Health
The combined effect of these therapies can lead to:
Enhanced breathing and improved cardiovascular function
Detoxification and skin rejuvenation
Deep relaxation and stress reduction
Enhanced mental clarity and emotional balance
Participants often report leaving these sessions feeling lighter, clearer, and more in tune with themselves. It's an experience akin to hitting the reset button on your body's natural healing abilities.
Join the Wellness Revolution
As we continue to offer this bi-monthly sanctuary of salt and sound, we invite you to join us on a journey of discovery and healing. This is not just another wellness trend; it's a return to the roots of natural healing, blending ancient practices with modern understanding to create a holistic experience that's more than the sum of its parts.
Whether you're a longtime wellness enthusiast or just beginning to explore the world of holistic health practices, our Salt Therapy and Sound Healing events are a profound way to invest in your well-being. Mark your calendars, and let us guide you into a world where every breath and sound brings you closer to harmony and health.
Join us and be part of a timeless tradition, reimagined for contemporary life, as we continue to nurture community wellness, twice a month, one session at a time.
Call us at 954-597-5545 to reserve your spot today.