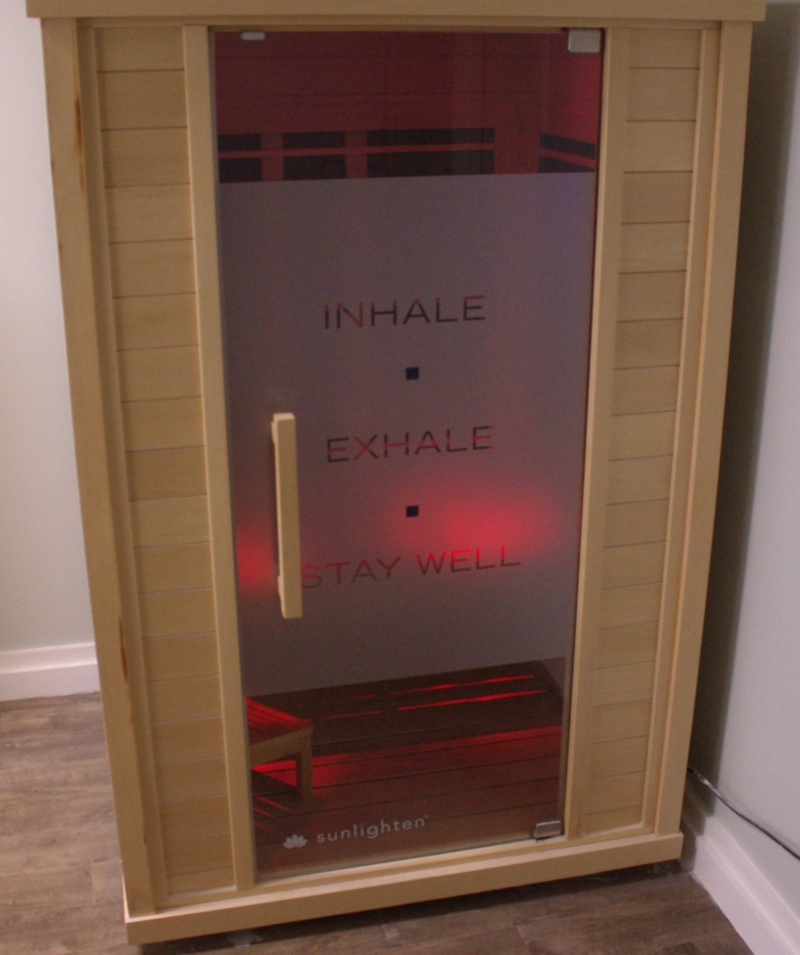 Infrared saunas have gained popularity among athletes and fitness enthusiasts due to their potential benefits for recovery and overall well-being. Come visit us at The Salt Room Coral Springs and use our sunlighten infrared sauna. Here's an explanation of how infrared saunas can be useful for athletes and guidelines on how often they should use them:
Muscle Recovery: Infrared saunas use infrared radiation to penetrate deep into the body's tissues, promoting vasodilation (expansion of blood vessels) and increasing blood flow to the muscles. This can help reduce muscle soreness and speed up the recovery process after intense workouts or athletic competitions.
Pain Relief: The heat generated by infrared saunas can provide relief from various types of muscle and joint pain, including arthritis and sports-related injuries. Athletes with chronic pain issues may find regular sauna sessions beneficial.
Detoxification: Sweating is one of the body's natural ways to eliminate toxins. Infrared saunas induce a profuse sweat, which can help athletes eliminate metabolic waste products and potentially improve overall health.
Improved Circulation: Infrared saunas can increase circulation, which may aid in the delivery of nutrients and oxygen to muscles and tissues. Enhanced circulation can also support the body's natural healing processes.
Stress Reduction: Athletes often experience stress and anxiety, which can negatively affect performance. Infrared saunas can promote relaxation and reduce stress through the release of endorphins and by calming the autonomic nervous system.
Enhanced Sleep: Adequate rest is crucial for recovery and performance. Regular sauna use has been associated with improved sleep quality, which can benefit athletes by aiding in recovery and muscle repair.
Frequency and Duration: The frequency and duration of infrared sauna sessions for athletes can vary based on individual goals and preferences. However, here are some general guidelines:
Frequency: Athletes can typically benefit from using an infrared sauna 2-3 times per week. This frequency can help with recovery without overtaxing the body.
Duration: A typical session in an infrared sauna lasts between 15 to 30 minutes, although some athletes may prefer longer sessions. Start with shorter durations and gradually increase the time as you become more accustomed to the heat. All our session at The Salt Room Coral Springs is up to 45 minutes long. Of course, you can come out anytime you want or keep going in and out.
Hydration: It's essential to stay well-hydrated before, during, and after using an infrared sauna, as sweating can lead to dehydration. Drink plenty of water to replace lost fluids. We provide all our clients who visit us at The Salt Room Coral Springs an 8-ounce water to drink before sessions and as much water as you want once the session is over.
Listen to Your Body: Pay attention to how your body responds to sauna sessions. If you feel lightheaded, dizzy, or uncomfortable, exit the sauna immediately and cool down.
Consult a Healthcare Professional: Athletes with pre-existing medical conditions or those taking medications should consult a healthcare professional before incorporating regular sauna use into their routine.
Remember that individual responses to infrared sauna therapy can vary. It's crucial to prioritize safety and adjust your sauna usage based on your unique needs and how your body responds. If you're unsure about how to incorporate infrared sauna sessions into your training regimen, consider seeking guidance from a healthcare provider or fitness professional.
Call The Salt Room Coral Springs at 954-597-5545 to make an appointment or visit us at www.saltroomcoralsprings.com. We look forward to your visit!